"National Award for Excellence in Water Management 2016" by CII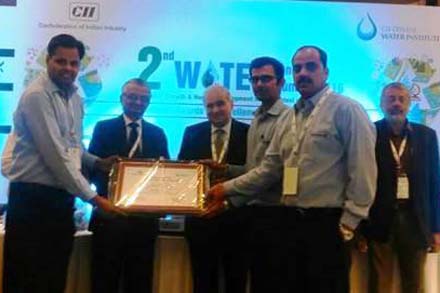 Hindustan Zinc's Dariba Smelter Complex  has been recognized as "Noteworthy Water Efficient Unit", "Within the Fence" category during "National Award for Excellence in Water Management 2016" by CII (Confederation of Indian Industry) on 27th September, 2016 in Delhi at Hotel Le Meridian.
The Award was presented by Dr Anil Kakodkar – Member of BARC  & Chairman of Jury National Award for Excellence in Water Management. 75 Industries applied for the award wherein 21 were short listed and selected after due diligence at site and further presentation before the jury members of the Award Categories.
Hindustan Zinc has witnessed 16% reduction in water consumption from FY 2011 to FY 2016 with the initiatives like cloud seeding, adiabatic cooling tower, multiple effective evaporator, deep cone thickener, air cooled condensers, sewage treatment plant and rain water harvesting. Hindustan Zinc's Sewage Treatment Plant under PPP model commissioned in Udaipur is the first sustainable development project of its kind in Rajasthan with a capacity to treat 20 million litres of sewage per day. The Sewage Treatment Plant is bringing substantial reduction in sewage inflow to the lakes.
On behalf of Hindustan Zinc, the award was received by Mr. Manoj Agrawal – AGM, CPP, Mr. Ankit Mishra – AM, Environment  and Mr. Rohit Vijay – AM, Asset Optimisation.
---