Results for the Second Quarter and Half Year Ended September 30, 2016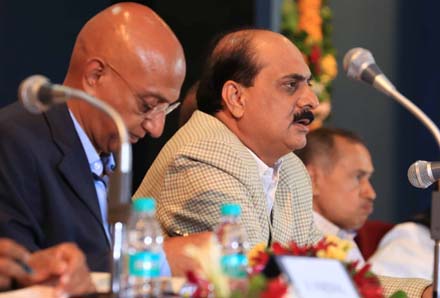 Mumbai, October 19, 2016: Hindustan Zinc Limited today announced its results for the second quarter and half year ended September 30, 2016.
Mr. Agnivesh Agarwal, Chairman "The price rally in zinc continued this quarter with prices climbing 18% from the previous quarter, consistent with its strong fundamentals. Silver prices too have rallied coupled with increasing silver volumes. Favourable market scenario and Company's smooth transition to underground mining has boosted investor confidence, heralding the Company's entry in the top 25 club in terms of market capitalisation in India."
Operational Performance
Mined metal production during the quarter increased by 51% q-o-q as per plan. The increase was primarily driven by higher ore production from Rampura Agucha open cast where ore body was exposed after high waste excavation during previous quarter in accordance with the waste-ore sequence; this increase is despite heavy rains during the quarter. On y-o-y basis, mined metal production was lower by 20% as projected due to lower production from Rampura Agucha mine.
In H1, mined metal output was at 318kt as compared with 472kt in corresponding prior period, in line with plan. During this period, the production from underground mines increased by 83% y-o-y, as Rampura Agucha mine ramped up production from underground. The Company is on track to achieve full year mined metal production higher than FY 2016 with second half being substantially higher.
Integrated zinc metal production during the quarter was at 149kt, up 47% q-o-q and down 30% y-o-y, in line with mined metal production.  In H1, integrated zinc metal production decreased by 37% y-o-y.
Integrated lead and silver metal production during the quarter increased by 25% at 31kt and 21% at 107 MT respectively compared to previous quarter. On y-o-y basis, integrated lead production was down 22% in line with mined metal production while integrated silver production was down 3%.
In H1, integrated lead production was lower by 17% from corresponding prior period, in line with mined metal availability. Integrated silver production was up 6% y-o-y in H1 despite lower mined metal, on account of significantly higher production from Sindesar Khurd mine. For the full year, integrated silver production will be higher than FY 2016.
Financial Performance
Subsequent to adopting Indian Accounting Standards (Ind-AS) from the current financial year, excise duty is now included in 'Sales' and reported as 'Gross Sales'. Accordingly, historical revenue has also been restated. Like in the previous quarter and in accordance with Ind-AS, the Company has temporarily capitalised excess ore burden of Rs. 141 crore during the quarter (Rs. 330 crore in H1) to more closely relate the costs to actual production volumes, which is expected to substantially reverse in H2 where waste excavation will be lower. Change in method of depreciation on Plant & Machinery from April 1, 2016, resulted in higher depreciation by Rs. 175 crore during this quarter (Rs. 346 crore in H1).
Revenues increased by 38% sequentially at Rs. 3,820 crore but were lower on y-o-y basis by 10% in the quarter and by 19% in H1. On a sequential basis, revenue increased due to higher volumes and metal prices, while the y-o-y decrease during the quarter and H1 was on account of lower volumes, partly offset by higher zinc & silver prices and rupee depreciation.
The zinc metal cost of production per MT before royalty (COP) during the quarter was at Rs. 54,186 ($809), down 12% from previous quarter and up 8% y-o-y (5% in dollar terms).  The sequential reduction in COP was mainly on account of higher volumes, while the y-o-y increase was attributed primarily to lower average grades due to change in mining mix, higher mine development and planned lower production. Cost reduction initiatives for operational and commercial efficiencies were partly offset by higher petroleum product prices and lower acid prices.
The above revenue and COP resulted in EBITDA at Rs. 2,077 crore, up 84% q-o-q and down 6% y-o-y. On a sequential basis, EBITDA increase was accentuated by write back and lower provisions in 'Power & Fuel'.  For six month period, EBITDA was lower by 18% in line with production, partly offset by higher silver & zinc prices and rupee depreciation.
Net profit during the quarter was at Rs. 1,902 crore, up 83% q-o-q in line with EBITDA increase and down 15% y-o-y. For six month period, net profit was lower by 30% at Rs. 2,939 crore. The y-o-y decrease for Q2 and H1 was due to higher depreciation and lower investment income on account of smaller corpus despite higher mark to market gains.
Expansion Projects
Continuing with the high pace of mine development, the Company achieved total mine development of 14,716 metres during Q2 and 28,728 metres in H1, up 12% and 14% respectively from a year ago.
With the objective of mitigating the risk of any delays in ramp up of Rampura Agucha underground mine, Stage V was conceptualized in late 2014 to extend the life of the open cast mine to 2019-20 by deepening the pit by an additional 50 metres. However, concurrent mining at Rampura Agucha is leading to geotechnical challenges in both the open pit and underground. After deliberations with internal & global technical experts, it has been decided to modify Stage V limiting the incremental pit depth to 30 metres. This will mitigate pit wall challenges and significantly reduce waste-ore ratio,   providing a fresh impetus to accelerating mine development at the underground mine in a safe manner. Ore production from Stage V commenced during the quarter and is now being accelerated to complete by March 2018. The expansion target of 1.2 million MT mined metal production remains intact and will be achieved as per plan.
Main shaft sinking at Rampura Agucha is progressing well and has reached the depth of 920 meters against the final depth of 950 meters. Winder erection is at advanced stage of completion and pre-equipping work of main shaft commenced during the quarter.
At Sindesar Khurd mine, preparatory work for head gear erection of main shaft commenced during the quarter while up-ramp development work is progressing well. The construction of new mill of 1.5 mtpa is on track and commissioning is expected by end of the financial year, taking the milling capacity to 4.25 mtpa.
Zawar mill debottlenecking along with associated power and infrastructure projects are advancing well and planned to be completed by end of this financial year. Decline development at key mines of Zawar is progressing well. Kayad project is now complete and mine has attained its rated capacity.
Dividend : In accordance with the recent SEBI guideline, the Board of Directors has approved the Company's Dividend Policy which entails a minimum dividend of 30% of net profits or 5% of net worth, whichever is higher. The detailed policy is available on Company website www.hzlindia.com.  Considering the Special Golden Jubilee dividend paid in April, no interim dividend is being paid now.
Liquidity and investment : As on September 30, 2016, the Company's net cash and cash equivalents was Rs. 25,166 crore, out of which Rs. 22,726 crore was invested in mutual funds and Rs. 4,331 crore in bonds. The Company follows a conservative investment policy and invests in high quality debt instruments.
---